Zing Chang Co., Ltd.--Ignition coils, wires, distributors, distributor caps etc.
---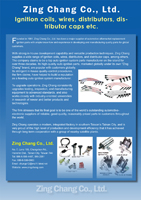 Founded in 1981, Zing Chang Co., Ltd. has been a major supplier of automotive aftermarket replacement ignition parts with ample know-how and experience in developing and manufacturing quality parts for global customers.
With strong in-house development capability and versatile production techniques, Zing Chang supplies a wide range of ignition coils, wires, distributors, and distributor caps, among others.
The company claims to be a top auto ignition system parts manufacturer on the island for over three decades. Its high-quality auto ignition parts, marketed globally under its own "Zing Chang" brand, are popular with customers globally. Its stringent in-house quality-control procedures, the firm claims, have helped to build a reputation as a leading auto ignition system manufacturer.
To upgrade operations, Zing Chang consistently upgrades testing, inspection, and manufacturing equipment to advanced standards, and also works closely with industry-oriented universities in research of newer and better products and technologies.
The firm stresses that its final goal is to be one of the world's outstanding automotive-electronic suppliers of reliable, good-quality, reasonably-priced parts to customers throughout the world.
Zing Chang operates a modern, integrated factory in southern Taiwan's Tainan City, and is very proud of the high level of production and development efficiency that it has achieved through long-term cooperation with a group of nearby satellite plants.